Copper Ear Wires Are Copper ear wires safe to wear ?
I have found that Copper ear wires are perfectly safe to wear & enjoy all day & night long.
Will they cause an irritation when I wear them ?
I have heard, in the past, women say that they think wearing anything less than Sterling silver will cause their ears irritation .
What I have found and firmly believe is that most non-Sterling ear wires have always been found , in the past , on cheap earrings.
By their nature ( being cheap) the makers of them never paid attention to the end of the ear wire ( the part that goes in your ear first).
If the wire end of the ear wire is rough, then every time you put the earrings on, your ear will become irritated by the sharp end on the wire .
When I make my ear wires
, which I always make out of Copper to nicely match the earring, I use a bur cup to polish and round off the end of each wire to be certain there is never a rough end.
I then use a micro finishing cloth to further polish it, and finally I buff the ear wire on a cotton muslin buff to be sure to bring back out the shine .
So I can confidently say, No , my custom made ear wires will never cause irritation in your ears. You can enjoy wearing them .
www.goimagine.com/liveoakstudios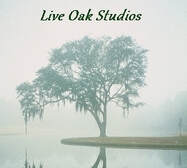 ---